Artline provides full service, custom mirror solutions. Our mirrors are framed to fit the exact size specified for your project. Everything is fully customizable to match your artwork solutions and décor.
Click Here to View Our Lighted Mirror Catalog
Click Here to View Our Specialty Mirror Ideas
Bluetooth, Clock, and many other options for lighted mirrors are available upon request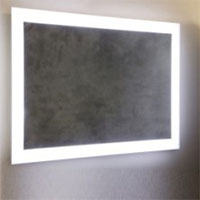 Mirror Designs: Antique Mirrors to Texture Mirror Glass to Custom Text or Design Printing in the mirrors. Artline can customize the mirror glass design to suite your design needs.
When requesting mirrors we recommend following these guidelines:
Size:
We size mirror solutions to match your desired space. Our mirrors are sized using the overall dimensions including the frame. All you have to do is provide the size of your desired space and we will provide you with the overall size including the frame.
Frame:
Please click here to view our popular frame options.  If there is a style of frame you would like for your design, our team and create the color and style of the frame based on your requirements.